Phil and Miss Kay Robertson will renew their vows in the season premier of Duck Dynasty on August 14 at 10pm EST on A&E. Their son, Alan Robertson, who is new to the show this season will officiate the ceremony. This will be their 50th wedding anniversary.
From the episode description:
"Everyone comes together to plan a surprise wedding for Phil and Kay, setting up a special ceremony on their land, which the whole family attends. Si distracts Phil and Kay by taking them on a "trip down memory lane" to different places that were meaningful in their relationship."
Knowing what will be in the season premier just makes me more anxious to start watching! Can't wait to see what Willie and Uncle Si have up their sleeves.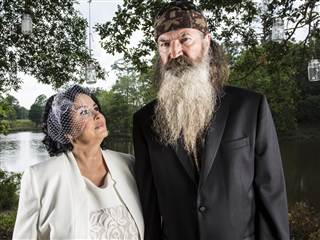 Karolina Wojtasik / A&E