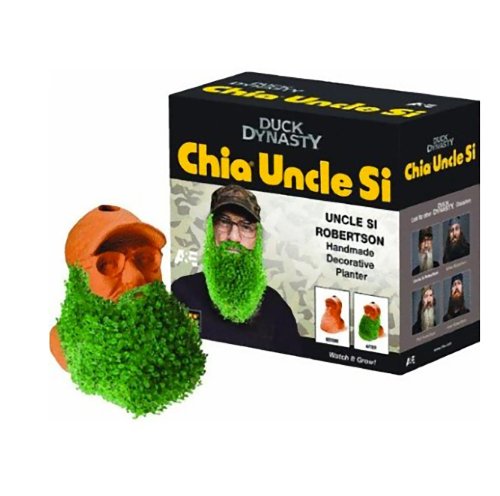 Duck Dynasty related merchandise will reach over $400 million in sales this year according to marketing studies. This makes the Duck Dynasty "brand" one of the most successful in TV history. In case you haven't noticed, Duck Dynasty merchandise is everywhere. You can find T-shirts, DVDs, books, mugs, headbands and more bearing the Duck Dynasty logo. Si Robertson seems to be one of the bigger hits with his "Si-cology 1: Tales and Wisdom from Duck Dynasty's Favorite Uncle" on most of the non-fiction best seller lists. Replicas of Si's famous teacup are a best seller on Amazon. Don't forget the Si bobble-head dolls, talking plush doll and, believe it or not, Si Robertson Chia pet planters that grow plants that form a beard ( see Duck Dynasty Chia Uncle Si Decorative Chia Pet Planter ).
I guess with the 11.9 million viewers that watched the Season 4 premiere and the 9 million viewers that watched the Christmas special, marketers realize that the brand is attractive to many. It is well-known that Willie Robertson, the CEO of the Duck Commander, is a marketing freak who believes in getting his company's name as much notice as possible. I'm sure he's behind the push get the merchandise out there, since it benefits not only his company, but his own personal pocketbook. But it is not only Willie who benefits. The licensees, manufacturers and retailers all share in the profits, and the people who buy the goods get to enjoy the novelty and humor of their Duck Dynasty products.
Let's just hope they know when to stop.  We don't want a Duck Dynasty overload.  Now where did I put that Duck Dynasty coaster?